2020, spotted at La Roque d'Anthéron, France during the confinement period
Mixed media. Collagraph printmaking on polyurethene cereal bags that pollute the ocean, used materials found on-site and in the sea.
Calamaronna : length 4 m x width 80 cm
Calamarcita : length 2 m x width 50 cm
The period of COVid confinement has allowed fauna to reclaim spaces normally inhabited by humans. Dolphins, rare species of birds and the like have returned to their former habitats.
A giant squid, "Calamaronna" and her baby "Calamarcito" have been sighted at la Roque d'Anthéron in the south of France 100 km inland from the Mediterranean Sea. Made entirely of waste materials and ink, they measure 4 metres and 2 meters for a surface total of over of 11 m2.
Pendant la période de confinement les animaux se sont réappropriés les espaces habités désormais par les êtres humains. Les dauphins, les espèces d'oiseaux rares etc., sont retournés à leurs anciens habitats.
Un calamar géant et son bébé ont été repérés dans le sud de la France, à 100 km de la côte méditerranéenne. Faits entièrement de déchets et d'encre, ils mesurent
4 m et 2 m pour plus de 11 m2.
The virus-crisis halted our flying. Nature thanked us for that but contradictions flew at us. I needed to show my daughter Emma that she was close to me, that I reached out to her with my mommy tentacles. I created Calamaronna. A free creature of the deep, molecules of unfathomable mystery. I spent hours, days months with her, sewing and listening, her cloak hooked over my arm like such a wedding dress with long train, she became infused with life. Her tentacles suctionning the legs of my work tables, lamps, sinks, she came into her own.
She even draws like me when her tentacles take flight in the wind.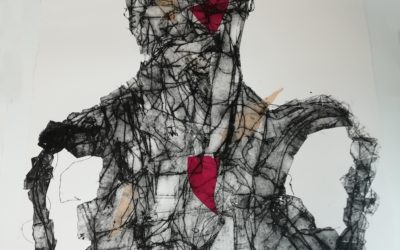 2021, Woven Art Centre d'art actuelLe Sabir était un langage véhiculaire parlé autour de la Méditerranée il y a des siècles. C'était un moyen pour les peuples de communiquer, un bien commun, témoin d'une compréhension et d'une cohésion entre des cultures différentes....